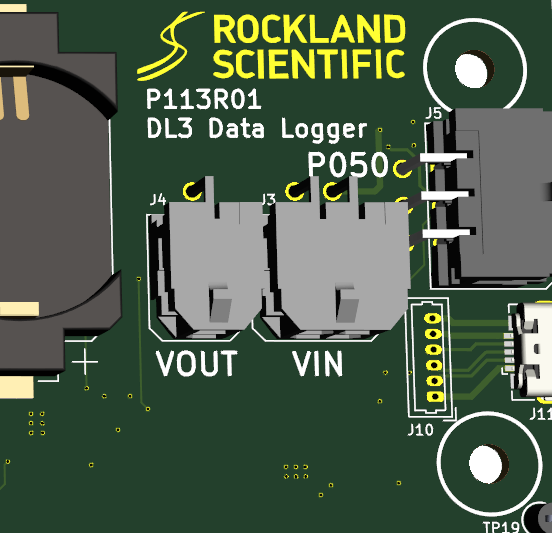 Rockland Scientific's New Data Logger Delivers Improved Software Experience and Simplifies Connectivity with Instruments
The new Rockland Data Logger (RDL) is now equipped in the current production of Rockland instrumentation. The RDL represents an evolution in our core instrument technology with modernized components and firmware that provides users with a simplified software interface and easier connectivity & configuration.
The RDL's capabilities far outpace those of the previous CF2-generation of data loggers by delivering enhanced data acquisition, transmission options, and on-board data analysis. 
This includes the option for new, dual-functionality of internal recording and real-time output (with properly equipped cable & winch system) on our line of Vertical Microstructure Profilers (VMP). On-board data analysis is achieved through enhanced integration with autonomous robotic vehicles, which includes soon-to-be released In-Situ Data Processing (ISDP) that will allow for processed turbulence data to be transmitted to shore via the vehicle's satellite telemetry system.
RDL Improvements
The RDL is designed by Rockland to meet the next generation of turbulence instrumentation. This provides us with the added benefit of improved revision generation, as well as controlling production and delivery of this core component – instead of being subjected to the current global microchip shortage. This translates to consistent delivery of Rockland instruments to our customers that are ready for deployment!
Instrument Communication: The RDL no longer requires Motocross Terminal and RSILink software (used for CF2 instruments) to communicate with a PC. Instrument configuration can now occur via the Zissou Essentials software (v1.6 and higher). Data transfer has been simplified by the fact that the RDL behaves like a USB Thumb Drive. When the USB connector is plugged into your PC, a drive will appear for two– way transferring of files. 
Available Memory: RDL instruments have 64 GB of embedded memory with larger capacity options available. This is an upgrade from the CF2 standard memory which was 4 GB.  
Clock Battery: The RDL uses a CR2032 Lithium battery that is expected to last 4 years minimum compared to the CR123 battery used in CF2 instruments that must be replaced by the user at least once per year.
Built-in Backup Power Source: The RDL has a built-in super-capacitor which acts as a backup energy source to ensure that data logging can shutdown properly when power is removed. The helps prevent the loss of data in the event of power failure.
A Key to Our Mission
The RDL is a key piece of technology to ensure the success of our customers and Rockland's mission to improving the measurement and analysis of ocean turbulence. 
Contact Rockland today to discuss how our solutions will help you reach your measurement goals. 
Additional Information about the RDL
Serial Numbering: RDL instruments have serial numbers 400 or greater. 
Data Processing: The Data Processing experience will remain the same, however the latest version of our ODAS MatLab Library or Zissou software will be required to process data files (.P) from both CF2 and RDL instruments. Please use ODAS Matlab Library v4.4.08 or Zissou Essentials v1.6 (or newer versions). 
Integrated Systems (Including MicroRiders and MicroPods): Rockland Data Loggers on integrated systems such as ocean gliders may require the platform to have specialized software designed by the platform manufacturer to control your microstructure instrument. Existing platform software for CF2 instruments may not be compatible with RDL Instruments, contact the platform manufacturer for more information. 
Upgrade to RDL: Rockland will continue to service CF2 Persistor based instrumentation while parts are available, however we recommend upgrading to the RDL if possible.  The RDL was designed to enable an efficient replacement of the CF2 Persistor in existing instrumentation. For more information or if you would like to upgrade an existing instrument from CF2 to RDL, please contact info@rocklandsicentific.com. 
Technical Support for RDL: The Rockland Support Team is standing by to provide support and training for the new RDL. Please contact support@rocklandscientific.com with and questions or concerns. 
For a complete overview of the Rockland Data Logger please download Technical Note – 052 Rockland Data Logger Overview and Comparison with CF2 Systems available on our Technical Note Download Page. We also have a RDL Integration Guide available to platform integrators by request. 
https://rocklandscientific.com/wp-content/uploads/2021/06/P113R01-DL3-Rendered-square.png
552
552
Evan C
https://rocklandscientific.com/wp-content/uploads/2015/08/RSI-logo-horiz-300x138.png
Evan C
2021-06-28 08:52:40
2023-05-12 14:38:19
Rockland Scientific's New Data Logger Delivers Improved Software Experience and Simplifies Connectivity with Instruments