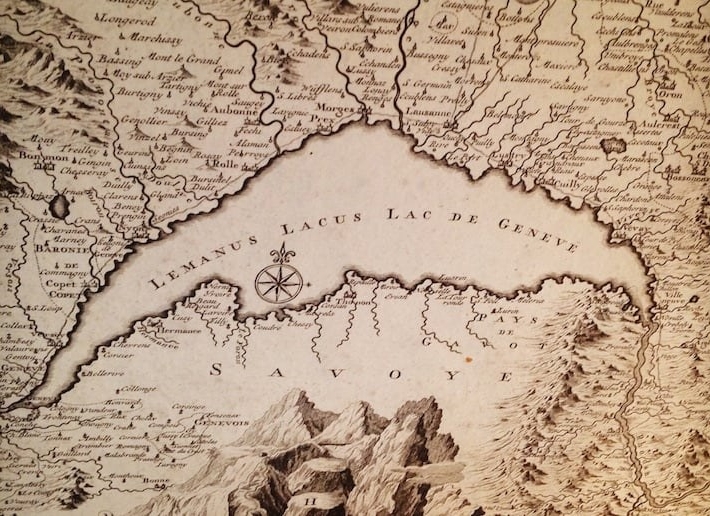 Swiss Limnologists Benefit from Swift Support & Loaner MicroCTD
Earlier this year, researchers at the Swiss Federal Institute of Technology Lausanne (EPFL) were experiencing challenges with data from one of the shear channels on their MicroCTD. However, Rockland manufacturing and support teams quickly provided a loaner MicroCTD to help EPFL continue their seasonal study from their Léman exploration platform (LéXPLORE).
Rockland's fast responsiveness and logistical capabilities provided for rapid delivery of the loaner MicroCTD. This enabled the EPFL team to conduct their periodic measurements without disruption. 
Some call it Lake Geneva (English), others call it Lac Léman (French). This beautiful lake sits on the border between Switzerland and France, and it receives a lot of scientific attention. "LéXPLORE", which stands for "Léman exploration", is the name for a scientific floating platform located on the lake off Lausanne. The platform is equipped with cutting-edge scientific instrumentation for simultaneous biological, chemical, and physical measurements at high resolution. 
As one can see from the pictures on the home page of the LéXPLORE platform (https://lexplore.info/), Rockland Scientific equipment is an important part of the equipment pool. Here is a video of the LéXPLORE platform taken from the perspective of a MicroCTD. 
Dr. Sebastiano Piccolroaz, an emerging scientist at EPFL, is very active in collecting microstructure data in the lakes. Dr. Piccolroaz has collected more than 900 MicroCTD profiles just in the past year. 
Sebastiano commented, "we take microstructure profiles nearly on a weekly basis (both upward and downward) as we are interested in seasonal and sub-daily turbulence and gas-flux patterns. Having the loaner instrument in such a short time was therefore a great support from Rockland as it allowed us to keep pace with our regular weekly fieldwork. On top of this, I should add that the same week we received the loaner instrument, we contributed to an important 48h monitoring campaign in Rotsee (close to Luzern), where colleagues at EAWAG are investigating horizontal flows resulting from nearshore night- time cooling with ADCP and tracer measurements. Having the loaner MicroCTD with us was definitely a big plus!". 
Rockland's continuing support was further demonstrated this Spring when our Sales & Support Manager for the Europe, Middle East & Africa (EMEA) region, Romain Tricarico, had the opportunity to travel to Switzerland to work with researchers from EPFL and Swiss Federal Institute of Aquatic Science and Technology (EAWAG) on the LéXPLORE platform.
The focus of the trip was a two-day microstructure workshop organized by EPFL and EAWAG to discuss: 
Best practices to operate Rockland profilers

 

MicroCTD-VMP data inter-comparison

 

Post-processing analysis

 
Notably, the fun part of the workshop happened during a field testing and deployment of a whole "zoo" of Rockland equipment as shown in the picture below. 
The VMP-500 is more than ten years old and was custom built by Rockland for Swiss researcher Prof. Alfred Wüest, whom everyone knows as Johny. Johny is the Swiss Grandmaster of limnology, having contributed numerous seminal publications on deep lake mixing and inspiring the next generation of microstructure experts. Rockland looks forward to supporting this next generation! 
All in all, Rockland takes pride in providing quick support to its customers and Romain's presence at the workshop. Together with the guest web-live appearance of Dr. Rolf Lueck (Rockland co-founder and staff scientist) during the data processing session was just another testimony of Rockland's mission to empower our customers to achieve their turbulence measurement goals and help scientists better understand climate change! 
How can Rockland support your project goals?  Contact us today to discuss our solutions, including available units from our lease-pool.
https://rocklandscientific.com/wp-content/uploads/2021/07/k5tpKc4II8wruS.jpg
516
808
Ian Efford-Lynch
https://rocklandscientific.com/wp-content/uploads/2015/08/RSI-logo-horiz-300x138.png
Ian Efford-Lynch
2021-07-09 10:35:24
2021-07-09 11:03:26
Swiss Limnologists Benefit from Swift Support & Loaner MicroCTD