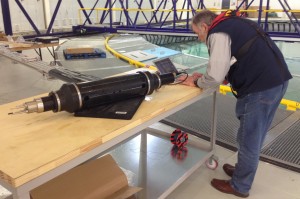 Rockland Scientific and FloWaveTT join forces to improve understanding of tidal turbulence
FloWave and Rockland Scientific join forces to improve understanding of tidal turbulence
Agreement paves way for broader collaboration on measuring turbulence 'from the lab to the ocean'
(Official News Release – 02 June 2015)
Two of the leading organisations in ocean energy research have pledged to work together to measure and understand the impact of turbulence on wave and tidal energy devices.
FloWave Ocean Energy Research Facility at Edinburgh University and Canadian marine turbulence specialists Rockland Scientific will work together to develop tank-scale turbulence measurement technology, which can also be deployed at sea, on both sides of the Atlantic.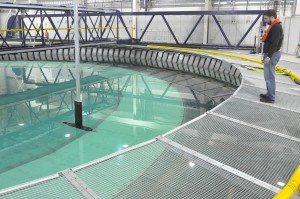 The two firms – which already completed a first round of technology testing in 2014 – announced the collaboration agreement at FloWave today [Tuesday June 2] during an ocean energy trade mission from Nova Scotia organised by Scottish Development International, the international arm of Scottish Enterprise and the Nova Scotia Department of Energy.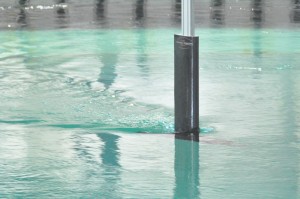 The mission brings together developers, supply chain companies and R&D organisations from Scotland and Canada, with the aim of encouraging and supporting closer trans-Atlantic collaboration on marine renewable energy technologies and projects.
"The accurate measurement and understanding turbulence, and particularly its impact on structures and performance, is a vital part of designing and deploying any wave or tidal technology", says FloWave Chief Executive Officer Stuart Brown.
"To date, the techniques for measuring turbulence in the laboratory have been very different to those adopted at sea, making like-for-like comparisons from one environment to the other more difficult. At FloWave we have already completed valuable turbulence characterisation work with Rockland Scientific – specifically bringing their ocean-going instrument into the laboratory at FloWave back in 2014.
"This new agreement allows the partners to build on that pioneering work to deliver transferable turbulence measurement solutions that enable all parties to dramatically improve their understanding of turbulence in fast tidal currents. That this translates across the scales from test tank model scale to full scale installations in the real environment directly addresses industry challenges such as device design for performance and reliability, accurate energy yield prediction for individual devices and the optimization of array project layouts; all of which are key parameters for the technical and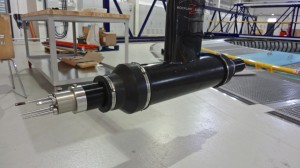 commercial feasibility of tidal energy conversion projects," Brown concludes
Commenting on the agreement Rockland Scientific Business Development Director Jeremy Hancyk said:
"The 2014 proof-of-concept demonstration of Rockland Scientific's field instrumentation in the FloWave tidal tank was just the beginning. This formal collaboration agreement with FloWave, supported by Innovate UK and Canadian funding agencies, leverages our complementary expertise to accelerate the further development of Rockland Scientific's turbulence measurement technology to smaller footprint, higher spatial resolution laboratory installations."
Commenting on the collaboration John McGinnes from SDI said:
"Scotland and Canada are both making tremendous strides towards the commercialisation of tidal energy technologies and this trade mission is helping to bring both sides of the Atlantic get together to address sectoral challenges and drive the industry forward. We look forward to more collaborations between Canadian and Scottish companies in the future."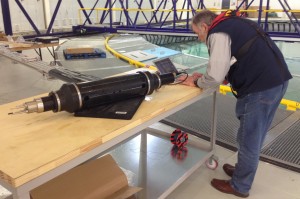 https://rocklandscientific.com/wp-content/uploads/2015/07/flowave-news4.jpg
199
300
Jeremy Hancyk
https://rocklandscientific.com/wp-content/uploads/2015/08/RSI-logo-horiz-300x138.png
Jeremy Hancyk
2015-07-08 11:04:06
2015-12-11 13:43:50
Rockland Scientific and FloWaveTT join forces to improve understanding of tidal turbulence