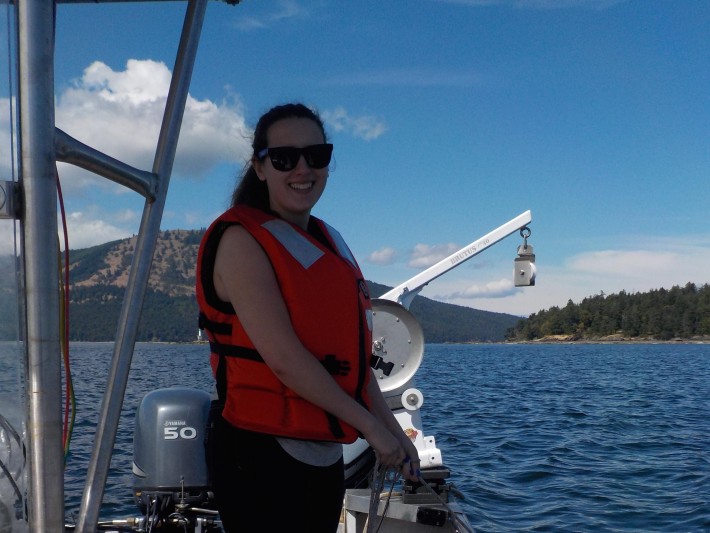 Summer Internship – Sciences Without Borders
VICTORIA, CANADA June 23, 2014 – Rockland Scientific is pleased present the interim results of our first summer internship from the Borders (SWB) program.  Through this bi-lateral exchange program between Canada and Brazil, Rockland has brought Carolina Machado Lima de Camargo onto the oceanographic team to assist in customer service and in-house applied research programs.
Carolina is a full-time undergraduate student of the Institute of Oceanography at the Federal University of Rio Grande in Rio Grande do Sul, Brazil.  Through the Sciences Without Borders program, she attended two academic terms in the Ocean Sciences Program at the University of British Columbia.  Upon completing the academic portion of the exchange program, participants in the Sciences Without Borders program are encouraged to engage in a summer internship that provides real-world experience working day-to-day in an institution or private sector company in their respective discipline.  Carolina expressed a strong interest in the field of physical oceanography and reached out to Rockland in the final months of her last term.  Her experience, enthusiasm and mathematical aptitude were immediately recognized as a perfect fit and she was asked to move to Victoria to work at the Rockland facility for the summer.
To make this internship valuable to both Rockland and Carolina, both parties collaboratively constructed a work-plan and set of goals and objectives for her three months at Rockland.  So far Carolina's responsibilities have included operational activities directed by Dr. Rolf Lueck, Rockland's Vice President of Science and Technology.  The first several weeks of Carolina's work involved training and education on turbulence theory as well as the design and operation of Rockland turbulence instrumentation.  With this knowledge, Carolina was then able to support customer service cases in the areas of deployment methodology and data processing and analysis.  Carolina also took the initiative to translate the Vertical Microstructure Profiler (VMP-250) manual into Portuguese for the purpose of supporting instrument users in Brazil who may not have a strong understanding of English, the language in which all information has been historically documented.
turbulence and estuarine mixing with Rockland instrumentation.  Carolina performed the background work to develop a suitable research question and hypothesis to conduct her investigation: Do tides create turbulence kinetic energy dissipation, i.e. vertical mixing, over the sill in Saanich Inlet, a fjord estuary in south-western Vancouver Island.  Carolina then designed the experimental methodology and field-work plan; heading out to sea on June 16, 2014 to acquire data.  The next step in Carolina's work is to post-process and analyze the data collected, ultimately testing her hypothesis and summarizing her findings in a scientific poster.  The abstract for this poster has been submitted to the scientific committee for the Physics in Estuaries and Coastal Seas (PECS) conference being held in Porto de Galinhas, PE, Brazil this October. The conference organizers, delegates and Rockland share the same goal of attracting young scientists to careers in physical oceanography with a focus in estuarine and coastal systems.   This would be an excellent opportunity for Carolina as PECS is a forum where junior scientists can feel comfortable presenting and testing ideas with constructive feedback from experienced academics in this discipline.
Carolina has been an asset to Rockland this summer and will bring back a wealth of experience on turbulence measurement theory and practice to IO-FURG upon her return. Carolina's involvement at Rockland as a summer intern in the Sciences Without Borders exemplifies a win-win-win situation from the perspectives of student, university and private company.  IO-FURG will engage in the first turbulence measurement studies in Brazil with velocity shear probe based profilers and plan to host an extension course on ocean turbulence this December. In addition to further strengthening the relationship between Rockland and IO-FURG, this first summer internship experience has exceeded expectations, which is encouraging for future students to engage in summer internships with Rockland.
https://rocklandscientific.com/wp-content/uploads/2014/06/DSCN0202-e1409352595511.jpg
2360
3119
Fabian Wolk
https://rocklandscientific.com/wp-content/uploads/2015/08/RSI-logo-horiz-300x138.png
Fabian Wolk
2014-06-23 14:36:27
2019-01-30 11:18:23
Summer Internship – Sciences Without Borders